Integrated Asset & Risk Management
INvest2 system is modular in design, functionally structured to automatize and enhance Front, Middle and Back Office daily workflow.
Ranging from automatic static and dynamic data-feed interfaces, order management, pre and post trade compliance, through powerful investment analytics tools, to asset valuation and client accounts administration, INvest2 supports the complete set of asset and risk management business requirements. The end result is high level of automation, while providing support for decision making analytical processes when needed.
INvest2 solution is up-to-date in terms of best practices and regulatory compliance, as well as highly flexible in terms of authorization, approval processes and system wide parameterization options, enabling it to match and support business needs across various asset and risk management practices and specificities.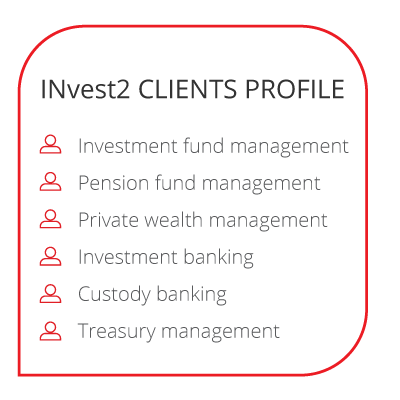 INvest
2
Numbers at a glance
1
In-country Localizations
The Company behind INvest2
We are IN2 Group Ltd, one of the leading software development companies in South East Europe, headquartered in Zagreb, Croatia.
We have been developing software solutions for a number of industry verticals for over 25 years, evolving to 600 employees in 12 companies, located in six countries of the region. We achieved Platinum Oracle Partner and Microsoft Partner statuses, with seven Silver and two Gold competencies. We have been renewing our ISO 9001 quality management system regularly since 2003, and we hold the ISO 27001 security management system certificate for more than five years.